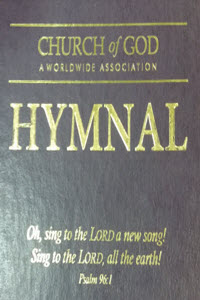 Church of God a Worldwide Association Hymnal (2011)
001 I Sing The Mighty Power of God (IWatts)
002 All Things Bright and Beautiful (CAlaxander)
003 Great God Who Made the Universe (MG) Genesis 1-2
004 God Is The Great I Am
005 I Will Sing Unto The Eternal (DWA) Exodus 15
006 Moses New Song (MG)
007 Keep Gods Sabbath Holy
008 On The Sabbath Day
009 Honor Your Father And Mother (RJ)
010 God Be With You (WGT)
011 May Your Blessing Be Upon Us
012 Go To Keep Gods Feast
013 Now Thank We All Our God
014 Blest And Happy Is The Man (DWA) Psalm 1
015 Psalm 1 (MG)
016 Trust In God And Stand In Awe (DWA) Psalm 4
017 Give Ear Unto My Words, O Lord (DWA) Psalm 5
018 Turn, O God, And Save Me (DWA) Psalm 6
019 How Excellent Is Thy Name!
020 How Excellent In All the Earth
021 I Will Praise Thee, O Eternal!
022 Declare His Works to All Nations!
023 The Lord is King
024 Who Shall Dwell On Thy Holy Hill?
025 Thee Will I Love O Lord (DWA) 2 Samuel 22
026 The Heavens Gods Glory Do Declare (DWA) Psalm 19
027 The Perfect Law of God (Becky Rigdon) Psalm 19
028 Most Perfect Law of God (Henry T. Smart) Psalm 19
029 Praise God All You Who Fear Him (BT)
030 The Lords My Shepherd (Crimond) Psalm 23
031 My Shepherd Will Supply My Need
032 The Lord is My Shepherd (Montgomery)
033 The Lordís My Shepherd (Havergal)
034 To Thee I Lift My Soul
035 Teach Me Thy Way, O Lord
036 Our God Is Good and Upright
037 Mine Eyes Upon the Lord
038 They Are Blest Who Are Forgiven
039 Blessed Is the Nation God Is For
040 Turn Thou From Evil
041 Wait and Hope and Look For God
042 Righteous Judge
043 O God We Have Heard (DWA) Psalm 44
044 God Is Our Refuge (Estes)
045 Come See the Works of God
046 Mount Zion Stands Most Beautiful (DWA) Psalm 48
047 Give Thanks and Offer Praise
048 In Thy Lovingkindness, Lord
049 Save Me, O God, By Thy Great Name
050 Unto My Earnest Prayer Give Ear
051 Wake, My Heart
052 God Is My Rock, My Salvation
053 Give Ear Unto My Prayer, O God
054 Joyfully Sing and Praise God!
055 O God, Forsake Me Not
056 For Even From My Youth, O God
057 Christ Shall have Dominion
058 O Thou the Shepherd of Israel Art
059 His Name is Great!
060 Thou Shepherd That Dost Israel Keep
061 Praise The Eternal With a Psalm (DWA) Psalm 81
062 Sing Songs of Praise To Him (DWA) Psalm 81
000
000
068 How Long Eternal Hide Thou Away (DWA)
088 O Worship the King (MHaydn)
095 O Give Thanks Unto God (DWA)
099 How I Love Thy Law, O Lord (MG)
103 Unto The Hills I Lift My Eyes (DWA) Psalm 121
104 Be Not Afraid My People (SKing) Psalm 121
106 Unless The Lord Shall Build The House (DWA) Psalm 127
110 How Good and How Pleasant (RJ) Psalm 133
111 Praise Gods Name (DWA) Psalm 135
112 His Mercy Never Fails (DWA) Psalm 136
113 By The Waters Of Babylon (DWA) Psalm 137
114 Lord I Will Praise Thee (DWA) Psalm 138
115 Hear My Cry Eternal One (DWA) Psalm 141
116 Give Ear To My Prayer O Lord (DWA) Psalm 143
117 The Servants Prayer (DWA) Psalm 143
118 O Lord Thou Art My God and King (DWA) Psalm 145
119 Glory to Thy Name (Sonia King) Psalm 145
120 Praise, My Soul, the King of Heaven (Ludvig Lindeman) Psalm 145
121 Halleluyah Praise God (DWA) Psalm 146
122 O Sing Ye Hallelujah (Arthur H. Mann) Psalm 147
123 We Hope In Your Mercy
124 Praise The Lord
125 Let All Things Now Living (KDavis) Exodus 13
126 Praise Ye The Lord! (DWA) Psalm 148
129 The Mighty Prince of Peace (RJ) Isaiah 2
130 It Won't Be Long Now (RJ) Isaiah 11
131 A Song In The Night (MG) Isaiah 30
132 In Days of Old (MG) Isaiah 11
133 God Will See Us Through (MG)
134 The Mountain of the Lord (MG) Micah 4
144 All Glory, Laud, and Honor (MTeshcner)
145 The One Whom The Father Sends (JB)
146 Go Ye Therefore Into All The World (DWA) Matt 28:19
147 Suffer The Children (Mary Beth Philp)
148 God Our Father Christ Our Brother
149 Creator God The Mighty One
150 By This Shall All Men Know (RJ)
151 God Speaks To Us - John 14 (Warren)
181 All Hail the Power (OHolden)
182 O God Of Every Nation
183 Crown Him With Many Crowns
184 When Christ Shall Come (MG) Rev 19-20
185 City Of God
186 The New Jerusalem (MG) Rev 21-22