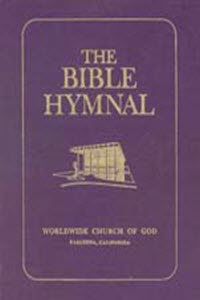 Worldwide Church of God Hymnal (1974)
001 Blest And Happy Is The Man (DWA) Psalm 1
002 WHY DO THE NATIONS MAKE PLANS IN VAIN
003 Trust In God And Stand In Awe (DWA) Psalm 4
004 Give Ear Unto My Words, O Lord (DWA) Psalm 5
005 Turn, O God, And Save Me (DWA) Psalm 6
006 TURN O GOD AND SAVE ME
007 HOW EXCELLENT IS THY NAME
008 I WILL PRAISE THEE, O ETERNAL!
009 DECLARE HIS WORKS TO ALL NATIONS!
010 ARISE ETERNAL O MY GOD
011 HIS EYES BEHOLD THE CHILDREN OF MEN
012 THY WORD, ETERNAL, IS TRUTH EVERMORE
013 HOW LONG WILT THOU FORGET ME, LORD?
014 WHO SHALL DWELL ON THY HOLY HILL?
015 THE KING DELIGHTS LORD
016-7 The Heavens Gods Glory Do Declare (DWA) Psalm 19
018 MY GOD, MY GOD
019 THE LORD IS MY SHEPHERD
020 THE LORD'S MY SHEPHERD
021 OUR GOD IS GOOD AND UPRIGHT
022 TO THEE I LIFT MY SOUL
023 MINE EYES UPON THE LORD CONTINUALLY ARE SET
024 IN THEE O LORD I PUT MY TRUST
025 THEY ARE BLEST WHO ARE FORGIVE
026 BLESSED IS THE NATION GOD IS FOR
027 TURN THOU FROM EVIL
028 THE WICKED MAN
029 REST IN THE LORD
030 WAIT AND HOPE AND LOOK FOR GOD
031 LET THY CHASTENING BE IN MEASURE
032 FOR IT IS GOD WHO ORDERS LIFE
033 Thee Will I Love O Lord (DWA) Psalm 18
034 O GOD, WE HAVE HEARD
035 AWAKE, O ETERNAL
036 COME, SEE THE WORKS OF GOD
037 GOD OUR STRENGTH AND REFUGE IS
038 Mount Zion Stands Most Beautiful (DWA) Psalm 48
039 NATIONS GIVE EAR, BOTH LOW AND HIGH
040 GIVE THANKS AND OFFER PRAISE
041 In Thy Loving Kindnes Lord (DWA) Psalm 51
042 God Is Most Gracios, Kind and Good (DWA) Psalm 52
043 Foold Have Said That There Is No God (DWA) Psalm 53
044 SAVE ME, O GOD, BY THY GREAT NAME
045 But As For Me Ill Call On God (DWA) Psalm 55
046 UNTO MY EARNEST PRAYER GIVE EAR
047 O PITY ME, BE GRACIOUS GOD
048 RETURN AGAIN O GOD
049 GIVE EAR UNTO MY PRAYER, O GOD
050 God Is My Rock, My Salvation (DWA) Psalm 62
051 Joyfull Sing and Praise God (DWA) Psalm 66
052 FOR EVEN FROM MY YOUTH, O GOD
053 O GOD, FORSAKE ME NOT
054 LET ALL NATIONS HAIL HIM KING
055 GIVE JUDGEMENT TO THE KING, O LORD
056 THE DAY AND NIGHT ARE THYNE
057 LET US SING TO GOD
058 HIS NAME IS GREAT!
059 UNTO YOU GOD I LIFT MY VOICE
060 O Thou the Shepherd of Israel Art (DWA) Psalm 80
061 THOU SHEPHERD THAT DOST ISRAEL KEEP
062 Praise The Eternal With a Psalm (DWA) Psalm 81
063 Sing Songs of Praise to Him! (DWA) Psalm 81
064 RISE AND JUDGE, ETERNAL ONE!
065 How Lovely Are Thy Dwellings (DWA) Psalm 84
066 O LORD OF HOSTS, MY KING, MY GOD!
067 O BE MERCIFUL TO ME
068 O THOU GOD OF MY SALVATION
069 HOW LONG, ETERNAL, HIDE THOU AWAY?
070 THOU ART OUR GOD FOREVER
071 HOW GOOD IT IS TO THANK THE LORD
072 O COME AND LET US WORSHIP HIM
073 THE LORD ETERNAL REIGNS!
074 SING PRAISES AND REJOICE!
075 HOLY, MIGHTY MAJESTY!
076 SING TO THE LORD WITH CHEERFUL VOICE
078 HE SHALL REIGN FOREVERMORE!
079 BLESS THE LORD ETERNAL, O MY SOUL
080 O BLESS AND PRAISE GOD
081 REMEMBER US O ETERNAL
082-3 O Give Thanks and Praise the Eternal! (DWA) Psalm 105
084 O THAT MEN WOULD PRAISE THEIR GOD!
086 WHEN ISRAEL OUT OF EGYPT WENT
088 PRAISE BELONGS TO GOD!
089 O GIVE THANKS UNTO OUR GOD
090 O HOW LOVE I THY LAW!
091 FOR THY LAW IS TRUTH AND LOVE
092 I HATE THE THOUGHTS OF VANITY
093 LORD YOU DEALT WELL WITH ME
094 IN DISTRESS I CRIED UNTO THE LORD
095 TO THE HILLS I'LL LIFT MINE EYES
096 Unless The Lord Shall Build The House (DWA) Psalm 127
097 Blest And Happy Is He (DWA) Psalm 128
098 MY HOPE IS IN HIS WORD
098 GOD IS OUR REFUGE
099 IN HIS WORD HAVE I HOPE
100 HIGH ON ZION'S HOLY HILL
101 PRAISE GOD'S NAME!
102 HIS MERCY NEVER FAILS
103 BY THE WATERS OF BABYLON
104 LORD, I WILL PRAISE THEE!
105 WHERE SHALL I GO FROM YOUR SPIRIT, O GOD?
106 HEAR MY CRY, ETERNAL ONE
107 TO THE ETERNAL I WILL CRY
108 Give Ear To My Prayer O Lord (DWA) Psalm 143
109 O Lord Thou Art My God and King (DWA) Psalm 145
110-1 The Servants Prayer (DWA) Psalm 143
112-3 Praise Ye The Lord! (DWA) Psalm 148
114 HALLELUJAH! PRAISE GOD!
115 COME THOU ALMIGHTY KING
115 The Lord's My Shepherd (Havergal) Psalm 23
116 I Will Sing Unto The Eternal (DWA) Exodus 15
117 Thee Will I Love O Lord (DWA) 2 Samuel 22
118 BLOW THE HORN, LET ZION HEAR!
119 BEHOLD, THE DAY WILL COME
120 Go Ye Therefore Into All The World (DWA) Matt 28:19
121 NOT MANY WISE MEN NOW ARE CALLED
122 IF I HAVE NOT CHARITY
123 GORIOUS THINGS OF THEE ARE SPOKEN
124 GOD SPEAKS TO US
125 AMERICA THE BEAUTIFUL
126 ONWARD CHRISTIAN SOLDIERS
127 BATTLE HYMN OF THE REPUBLIC
128 PRAISE YE THE LORD, THE ALMIGHTY